As the music plays, food is served, and the celebration continues, your guests can step inside one of our photo booths to make your wedding unforgettable!

Guests of all ages love stepping inside the photo booth, trying on props, and striking a silly pose.
The photo strip also serves as a keepsake for each guest to take home with them with your name and wedding date.
Best of all, you will get a CD with each picture that was taken during your event so that you can see your guests in a whole new light, and have a personal memory of each of your loved ones.
You can use the CD of pictures to reprint your favorite shots, include pictures in your thank-you cards, or create a fun scrapbook with silly poses of your guests.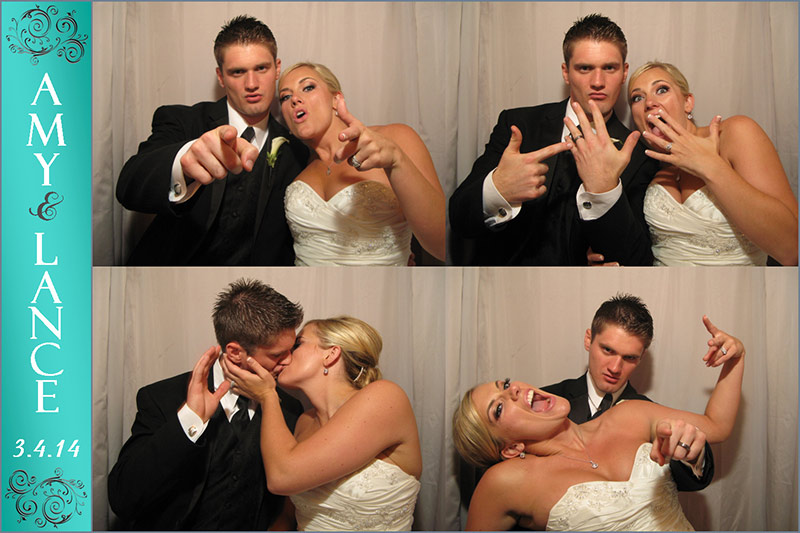 Additional Options
Guestbook: With the photo booth, you can add a face to go with each heart-felt message that your guests leave in the guestbook.  Whether you provide a guestbook or choose to have us provide one, we will make sure that photos are taken and added next to each guest's comments.
Scrapbook:  If you would like to have a scrapbook to preserve all the fun and excitement from your wedding, we will create a scrapbook with each photostrip taken at your wedding and ship it to you.
Assurance & Confidence
You can be sure of a worry-free day from Create the Memories.  We have an on-site attendant for the duration of your event.
We guarantee early set-up on the day of your event.  And we will make sure that all the details on customizing your photos are taken care of beforehand.  We will do everything on our part to make sure your wedding is perfect and glitch-free.
"We decided to do a photobooth rather than do favors - I'm so glad that we did this! All of the guests commented on how fun it was. The costumes definitely added to the whole festive atmosphere. I also felt that the price for the rental was very fair. The photos were of very good quality, we got a CD of all of the photos taken and we got to choose a cute photo that the guests could view on the screen before they took their photo and also got to include cute wording at the top and bottom of the photos. All in all - well worth it. I would definitely recommend this vendor - they sent a really adorable and sweet attendant who made sure it was a fun experience. Thank you!"
Randi
"The Photo booth was originally my wife's idea, but MAN was it worth it! It was so fun to see all the people having fun and acting like a kid again posing for the camera. It is not only a fun thing to have at your wedding it also counts as your gift to your guests. Everyone takes home a small souvenir from your wedding in their little pictures and you get a CD full of fun memories. They were awesome!"
Stuart
"They were very easy to work with! The photobooth was very simple to use and we received a great product!"
Robin
"It was a great way to get fun photos of all of our guests. CTM provided us with a CD of all the pics. The day after our wedding we had so much fun going through all the funny pics of our friends and family."
Mackenzie
"This was one of the highlights of our wedding reception! Almost everyone in attendance took a turn in the booth and had such wonderful praises about it."
Jessica
""Absolutely loved Create the Memories photobooth! Every guest thoroughly enjoyed this service and the staff was helpful and kind!!!""
Nicole
"I know that everyone already said this, but this is a great idea!"
Robert,
"Everyone loved the photo booth! I mean EVERYONE... the kids, teens, the adults... the laughter did not stop and it came from all ages!"
Duncan,
"Ok, I was wrong. The photo booth was the best idea ever!"
Charles,
"You all need to put something on your web page about your service that goes above and beyond. I wish everyone did business the way you do!"
Barbara,